Downtown Brambleton — Van Metre's Parker II Grand Opening Event
December 11, 2019 | by Lauren Ludwig
This past weekend Van Metre Homes celebrated the grand opening of their Parker II model in Downtown Brambleton with style! Celebrity Chef Spike Mendelsohn stopped by and cooked up some amazing plant-based food!
Additionally, local Blogger Amy Alleva of Blonde Charm was also there sharing some great ideas to have the best family-friendly New Year's Eve party to ring in the new decade in just a few short weeks! Take a look below at Amy's blog and get a head start on your own NYE party plans. Thanks for visiting Blonde Charm – glad you had fun at Van Metre's party in Downtown Brambleton!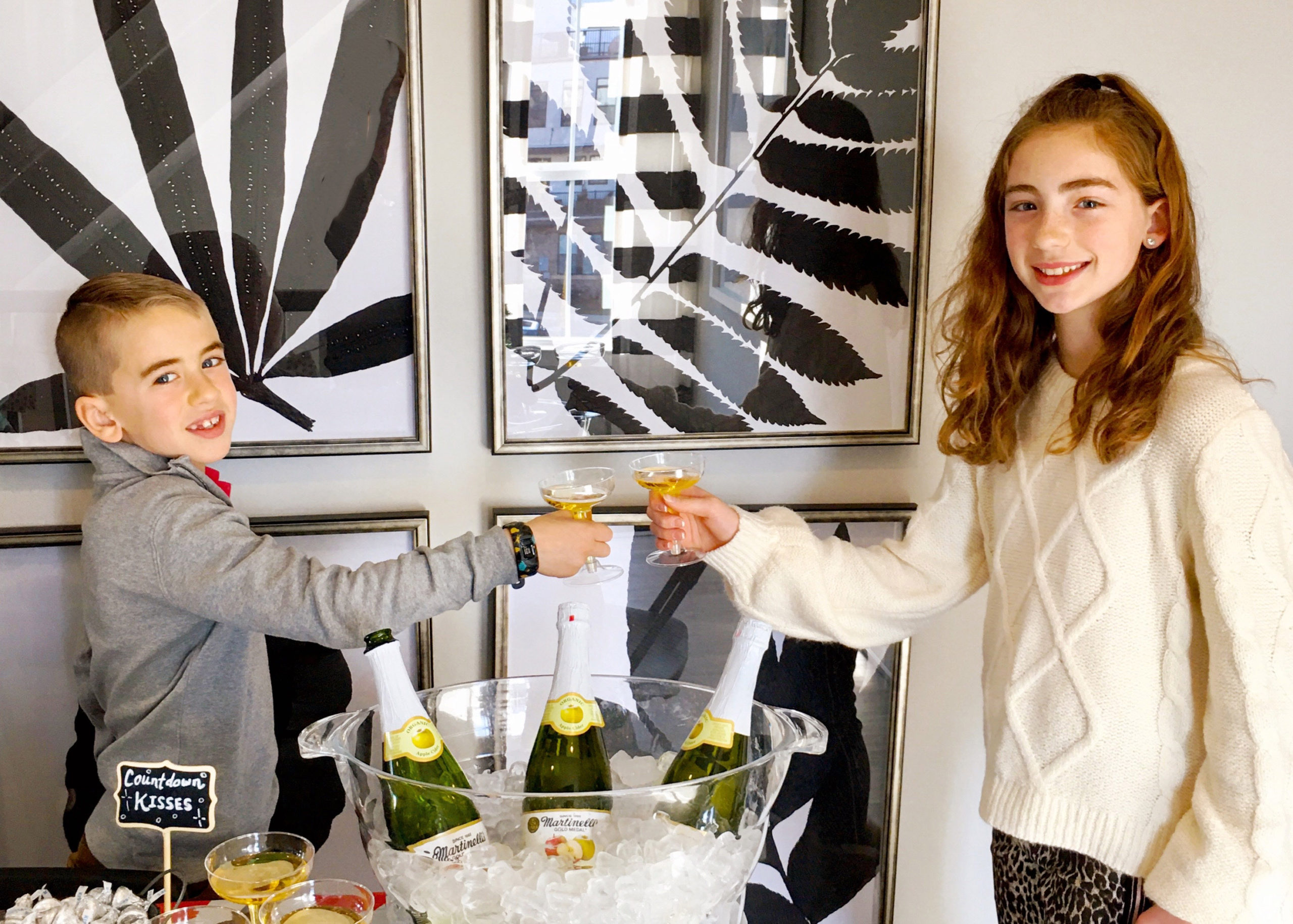 5 Fabulous Family Friendly Ideas For Your New Year's Eve Party
Originally posted by Blonde Charm on 12/10/19
Love New Year's Eve and want to include the kids too? No problem! You can celebrate with your family and your friend's families all before the stroke of midnight!
New Year's Eve is not just for grownups! There are so many fun ways to include the children, even if they do not stay awake till the stroke of midnight! Whether it is just with a few close friends or you are having every family in the neighborhood over; I have compiled a list of my favorite family friendly ideas for a New Year's Eve party they will not soon forget. So get the sparkling cider and champs ready to ring in the new year with everyone!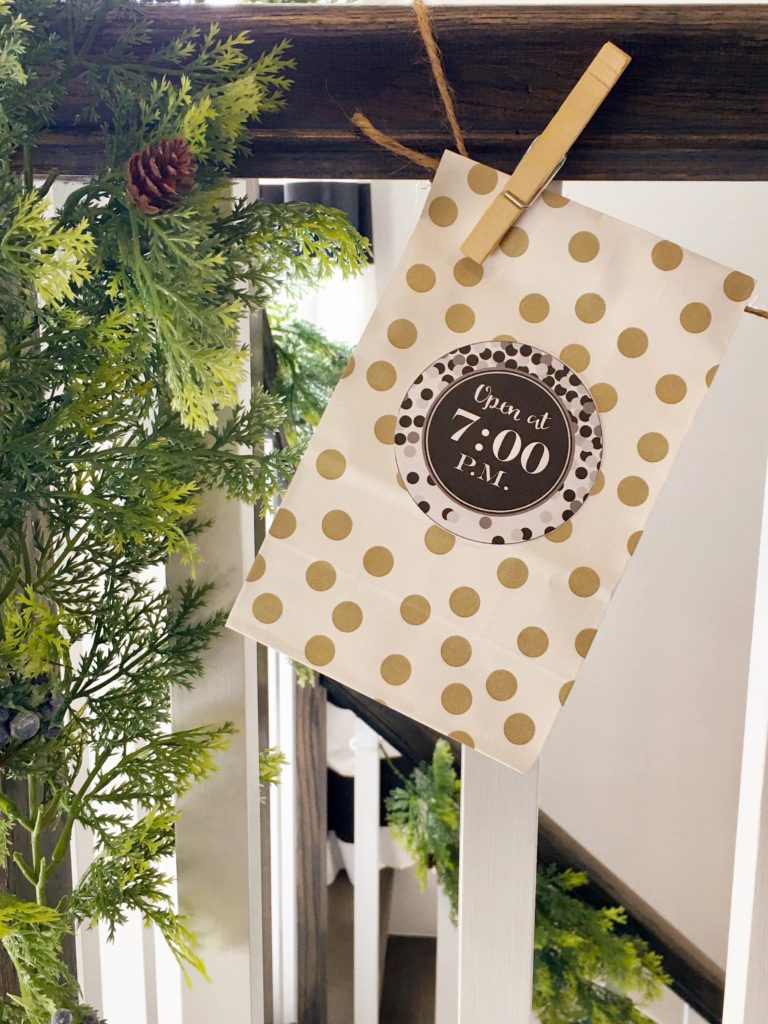 New Year's Eve Countdown Bags
Countdown bags are so much fun! They remind me of the best part of Christmas…stockings! All you need for these fun surprises are paper bags (yes your kids brown paper lunch bags will work), a clock with the hours of your party and surprises in each one! Hang them from the mantel, banister, a shelf or place them on a table! At the top of every hour the kids can enjoy a new surprise for the party. If you are wondering what to fill the bags with, do not worry here are some ideas: new music for karaoke, a fun game to play, a new movie, favorite snacks, a craft, noise makers, NYE hats, stationery to reflect on the past year and resolutions/wishes for the year ahead. Anything goes! Just have fun with it. This will be something the kids will look forward to each year.
Get the free clock printables from Real HouseMoms.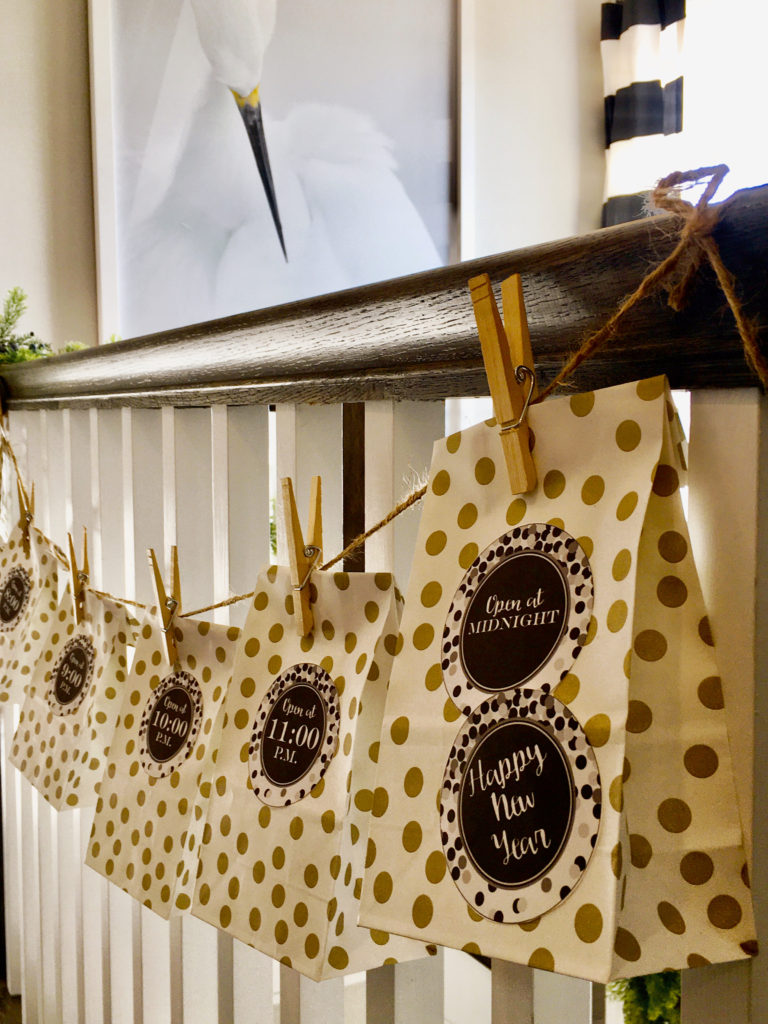 New Year's Eve Crafts & Games
I have compiled some easy crafts that do not require a lot of stuff to make and the best part, they are all glitter free! In other words, no glitter explosions to worry about while you are busy entertaining your friends.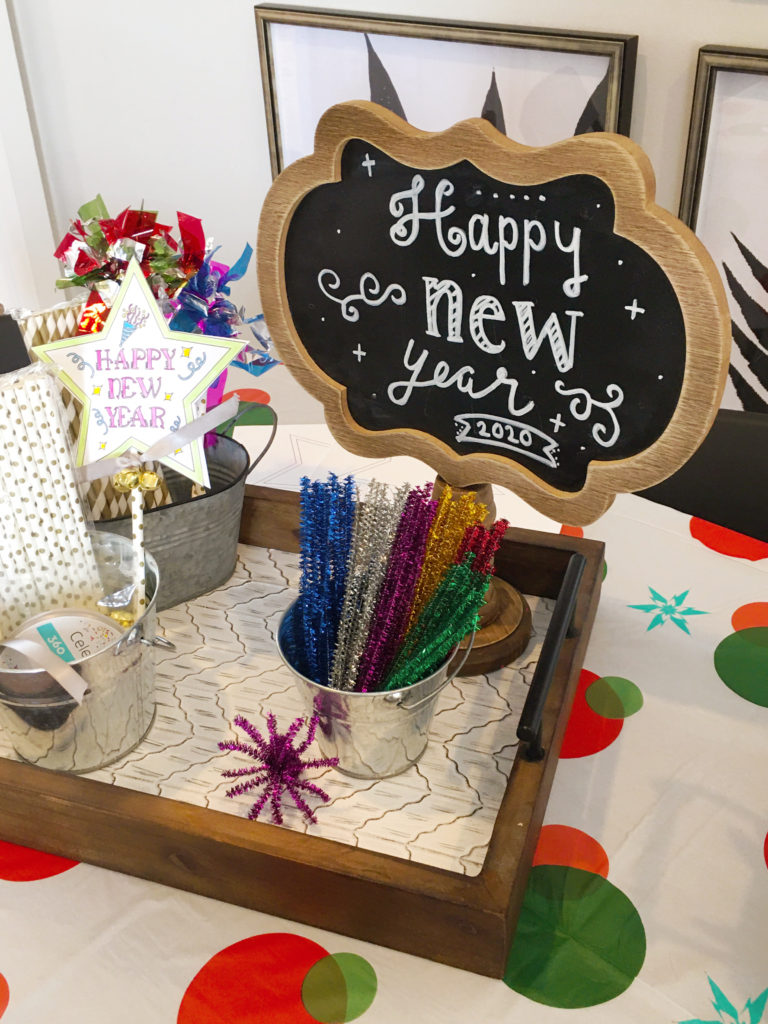 Sparklers are popular on New Year's Eve. If you do not want to brave the cold with real sparklers this is a great alternative to make with your children. These Sparkler Fireworks are so much fun. Find the tutorial at Kids Craft Room!
What little girl doesn't love a wishing wand?! This New Year's Eve Wand craft is so simple to make! Add bells and it can double as a noisemaker after the countdown! Get the tutorial at Projects with Kids!
Do you have a firework ring yet? If not, you will want to be sure to make one of these to model on New Year's Eve! All you need are pipe cleaners and scissors! Find the the tutorial at Fantastic Fun and Learning!
Here is something the older kids might enjoy. Why not take a break with a snack and New Year's Eve crossword puzzle or word scramble? Get the free printables from Happiness is Homemade!
Sing the day or night away at your party with karaoke! The kids always have fun with this and as the hours pass you might find yourself taking a turn or two!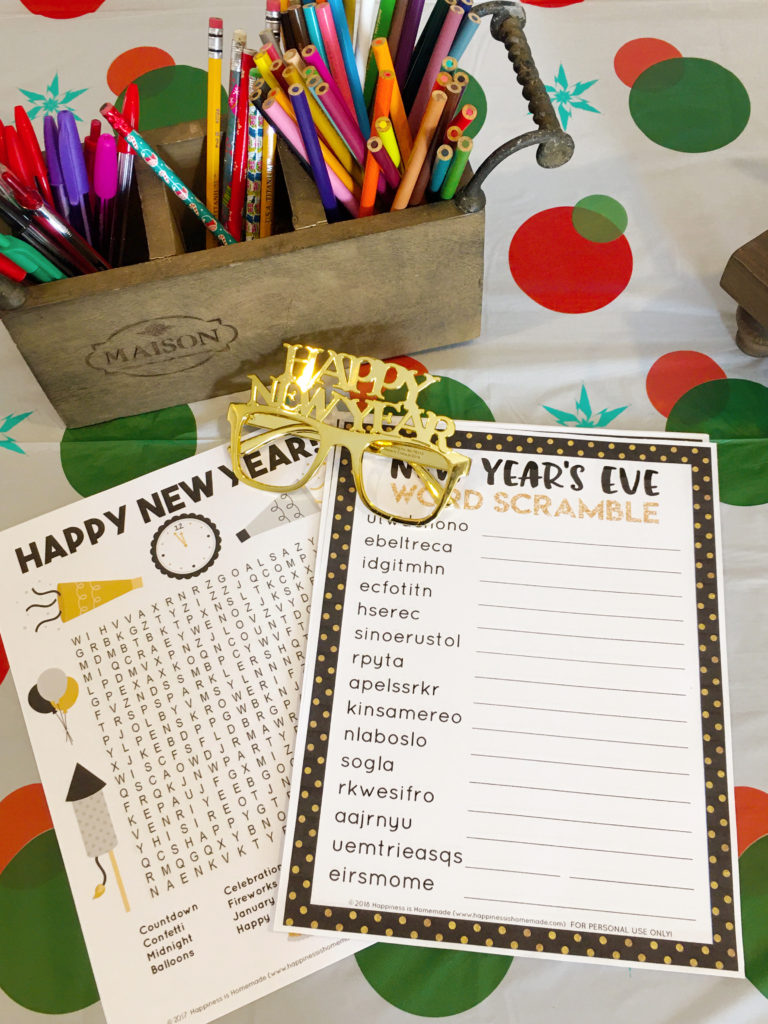 New Year's Eve Photo Booth
Young and old love photo booths! Set one up in a space in your house where the kids can snap away as many poses as they want! You can use a blank wall, decorate with streamers or buy a festive backdrop. There are so many props you can use from ones specific for the New Year to crazy hats, wigs, sunglasses, necklaces, etc. Just have fun!
New Year's Eve Countdown
If your crew is not going to make it to midnight to see the ball drop in Times Square it's OK! There are alternatives now where you can play the countdown early. How awesome is that?! Everyone (maybe even you and your friends) will get a full night's rest and start the New Year off refreshed! If you have Netflix they have an early countdown often available just after Christmas. YouTube has quite a few to choose from as well! What a great way to include the kids welcoming in the New Year! Make all the noise you can and hand out Hershey kisses for the kids…after-all kisses are so GROSS!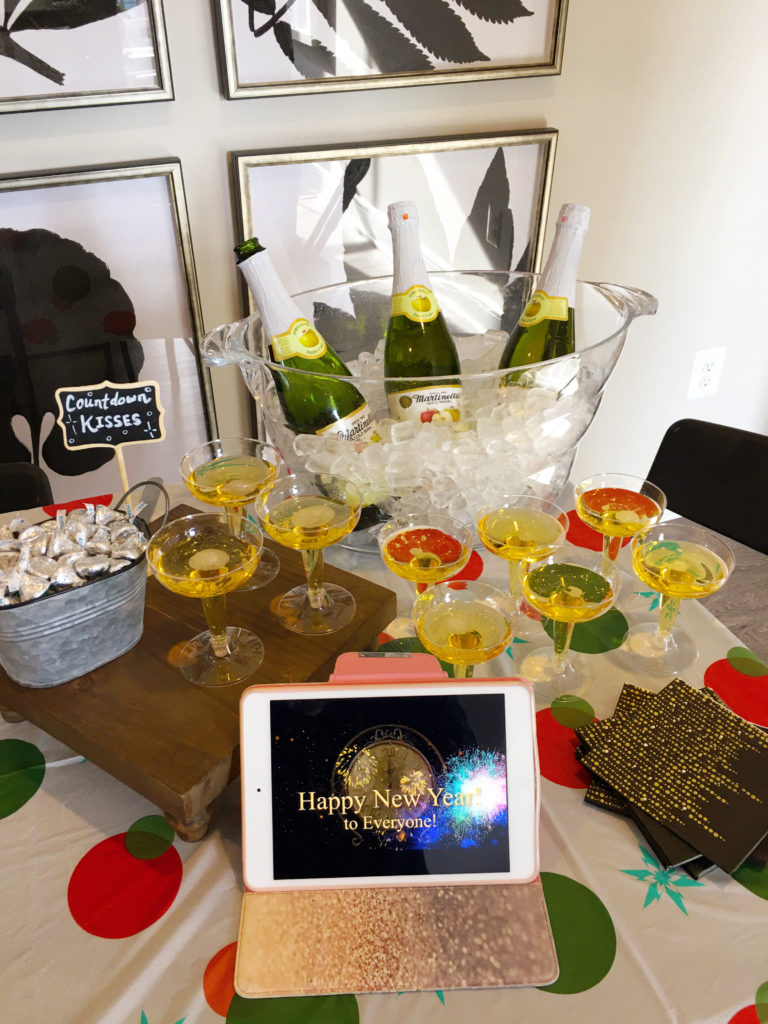 New Year's Eve Toast
A New Year's Eve party would not be complete without a toast to the year ahead. When you are out shopping for your favorite champs be sure to get some bottles of sparkling cider so the kids can get in on the fun of toasting the New Year too! Another tip is to use plastic champagne flutes so you do not have to worry about anyone breaking anything – yes – anyone! Cheers to the New Year!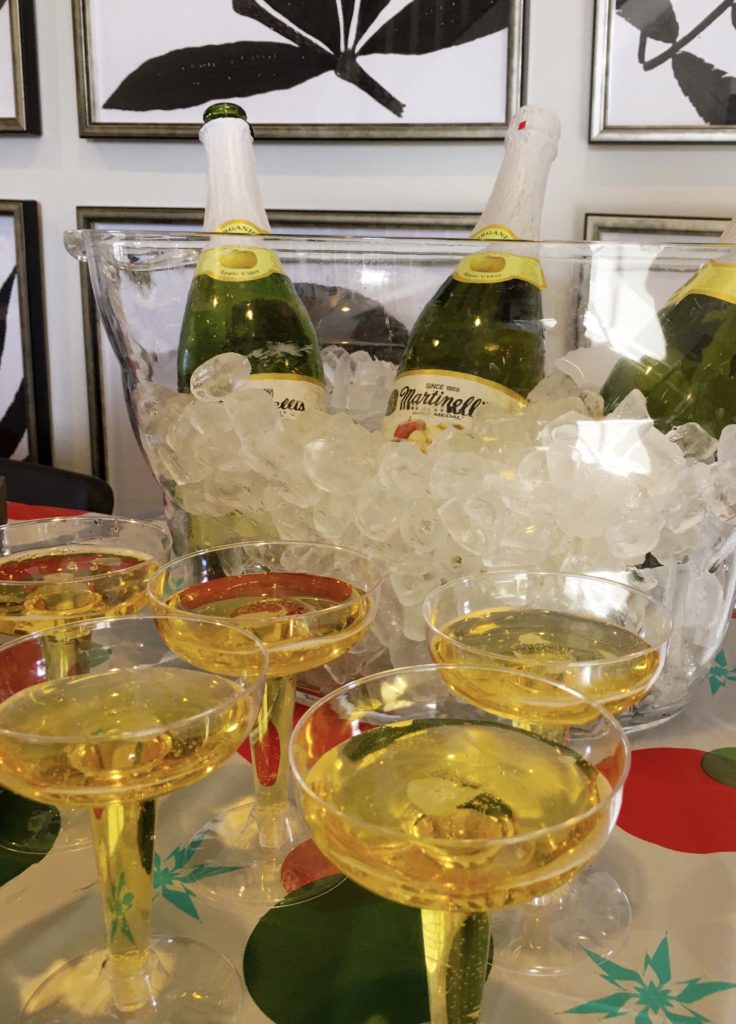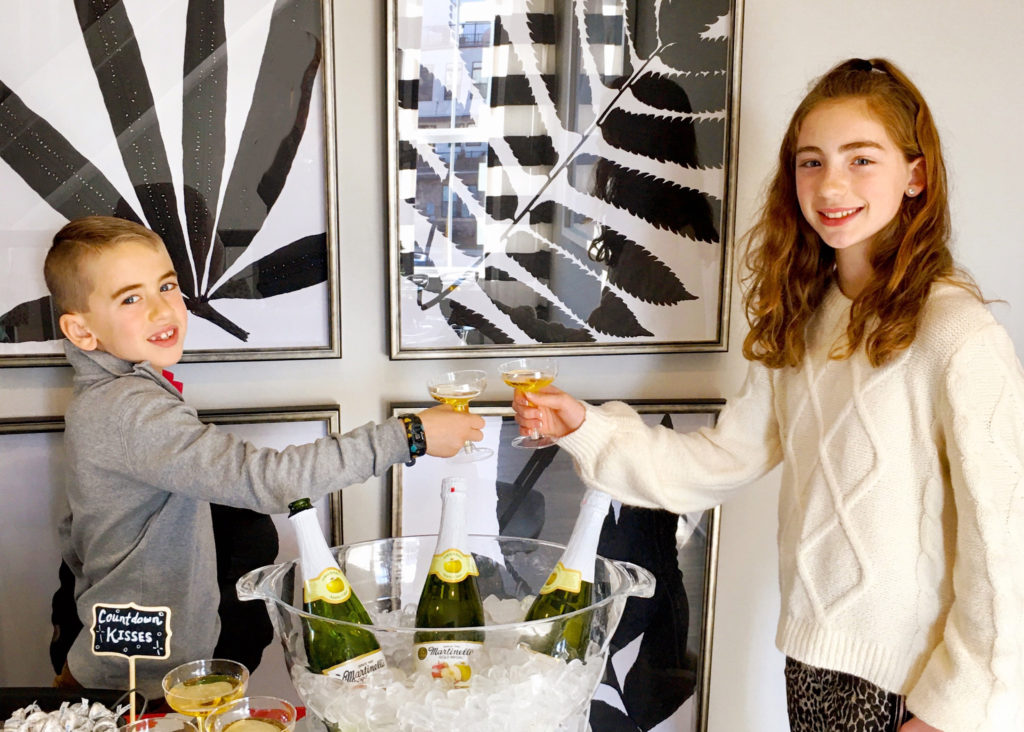 Where to Host Your Next New Year's Eve Party
Are you thinking about how amazing it would be to live in a community where your neighbors would be up for this kind of party? A neighborhood where your kid's friends get together after school and on the weekends? There is an award winning community in Virginia that IS this family friendly! Van Metre open-plan townhomes are steps away from a state-of-the-art library, Brambleton's other neighborhoods, parks, pools and highly-ranked Loudoun County schools.
Additionally, there are restaurants, retailers, a gym and regularly scheduled community events in Downtown Brambleton. In 2020 the silver line metro is on track to open in Loudoun County! The time is now to make your move to the suburbs. Do not worry, in Downtown Brambleton you will not give up that urban charm that you may be used to where you currently reside but you will gain more space and affordability!
Above all, these open-plan townhomes are built to entertain! Given the open floor plan you can hang in the gourmet kitchen/dining area with your friends and easily watch the kids as they craft and play in the great room! Maybe the older kids will find their way downstairs to the rec room for games and karoke! They can have their own stash of snacks and refreshments on the wet bar. Regardless of where everyone hangs out they will no doubt enjoy themselves in your beautiful new home.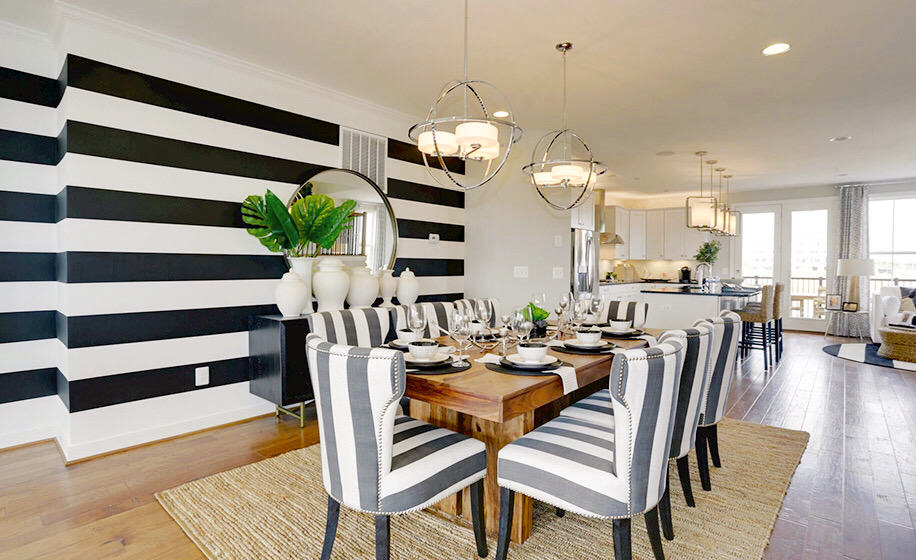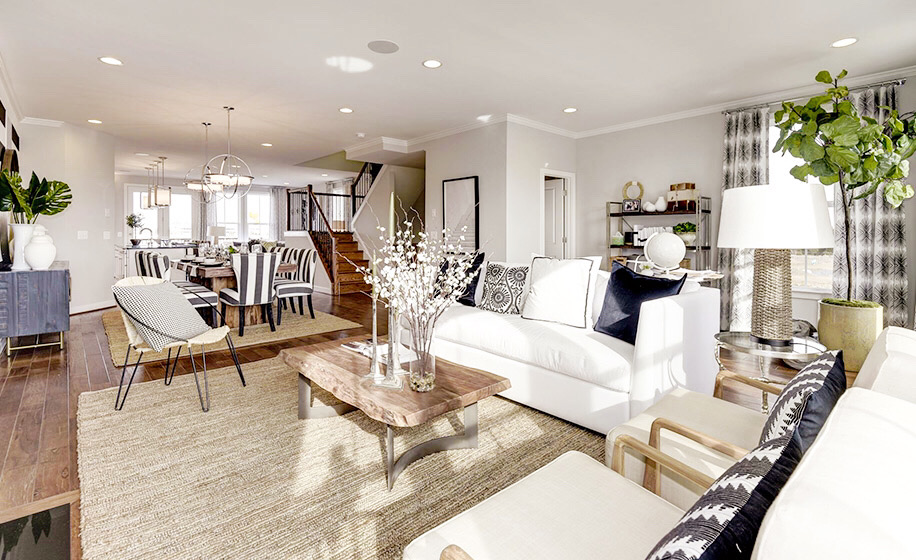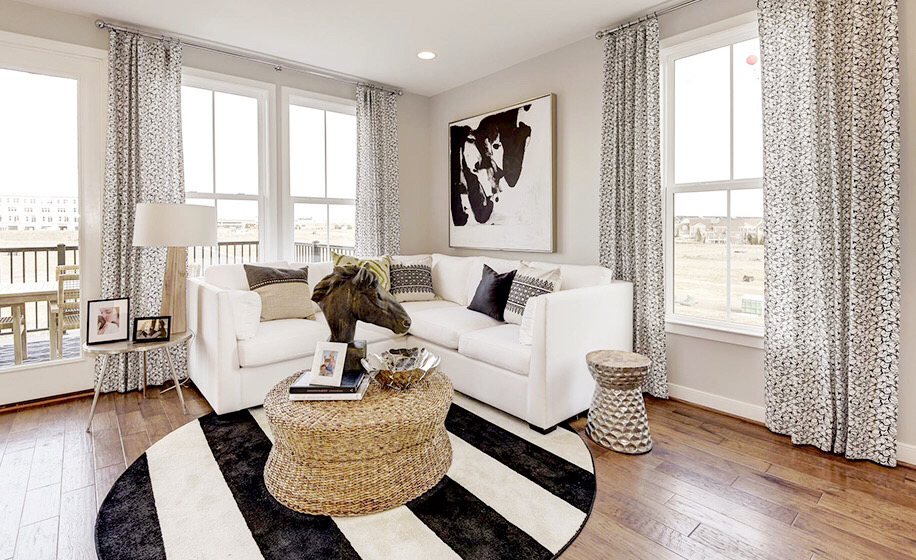 Contact Van Metre homes today to schedule a tour of your new home!
I hope this New Year's Eve your guests, young and old, have a wonderful time at your party no matter the time of day! Happy New Year!
For more information about this amazing community check out this post: A Visit to the Brambleton Marketplace
I am thrilled to partner with Brambleton. All opinions are my own.